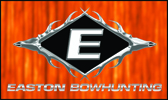 The Easton Axis Traditional woodgrain carbon arrows are a perfect blend of speed and penetration. They are very well suited for 3D shooting and will delight hunters with their penetration performance due to their micro diameter. Their wood finish will particularly appeal to traditional archery shooters who want to combine performance and aesthetics. They are supplied with a bone colored X Nock and an aluminum HIT insert. Brass inserts of 75 grains that can be cut down to 50 grains are available as accessories sold separately. They are feathered with 4" inch natural parabolic feathers.
These solid arrows are available in 340, 400, 500 and 600 spine.
!!! We cut your arrows to your desired length for free!!!