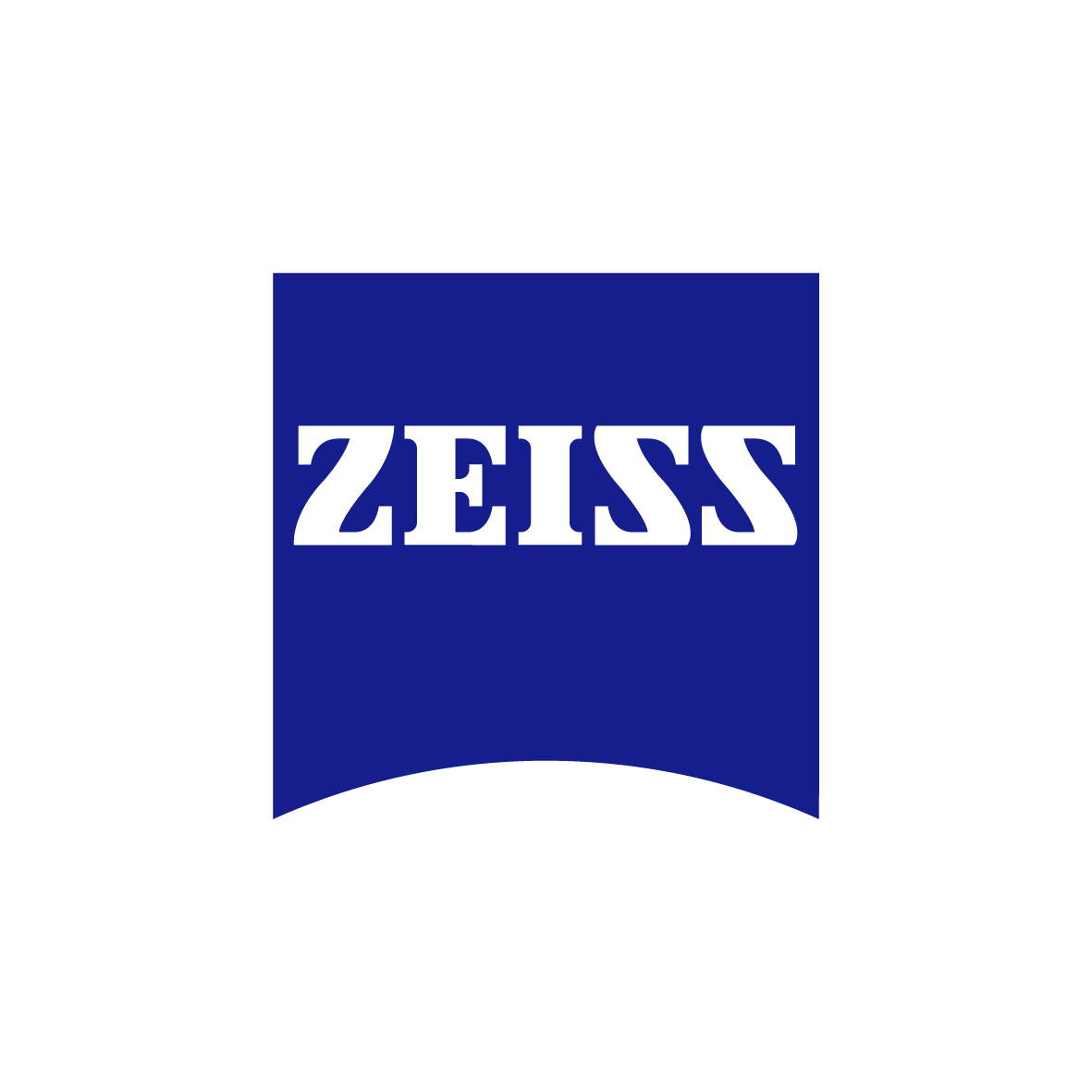 Develop a superpower with thermal vision ZEISS

The thermal imaging camera ZEISS DTI 3/25 offers a wide field of view from 26 m to 100 m and, thanks to its outstanding optical system, gives a perfect overview at short distances for night hunting in wooded areas or stalking for shooting.
What the night or vegetation hides from you, the new Zeiss DTI monocular reveals to you, and in great detail. Thermal detection increases the chances of success and gives the hunter more certainty when deciding which animal to take.
It's time to tame the night with the ZEISS DTI 3/25. This exceptional thermal imaging camera with the new intuitive ErgoControl operating concept was developed by hunters, for hunters.
Exceptional optics, as Zeiss has always been able to do!
It's not enough to see something at night, you also have to be able to accurately identify what you see. That's why the high-resolution LCOS HD display provides images with the exact level of detail you need to reliably identify your target, even in total darkness.

Perfect Ergonomics
Night observation requires great care. ZEISS has developed ErgoControl to make the use of the optics as easy and efficient as possible. Thanks to the intelligent positioning of the buttons, every function can be controlled intuitively. The buttons can be identified quickly - even when wearing gloves.
The innovative design of the optics allows for one-handed operation. This is optimized for both left and right-handed users. The ergonomic shape of the device allows a natural hand posture, with the fingertips resting directly on the controls. This promotes long and fatigue-free viewing.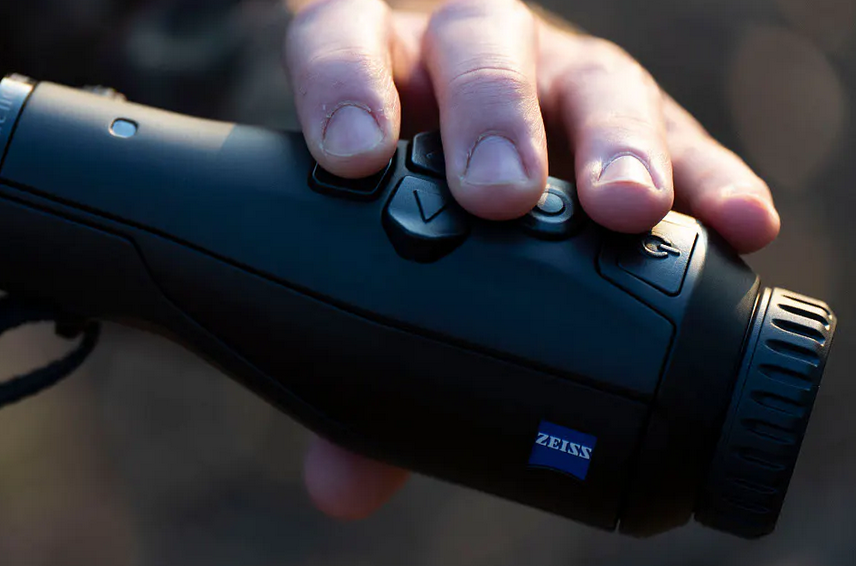 Live streaming via the "Hunting" application.
Nature behaves very differently in the dark than it does in daylight. This means that you can observe fascinating and unique moments. You would like to capture them! With the ZEISS Hunting App, hunters can transfer data from the DTI 3/25 directly to a smartphone via WiFi and even live stream nighttime videos.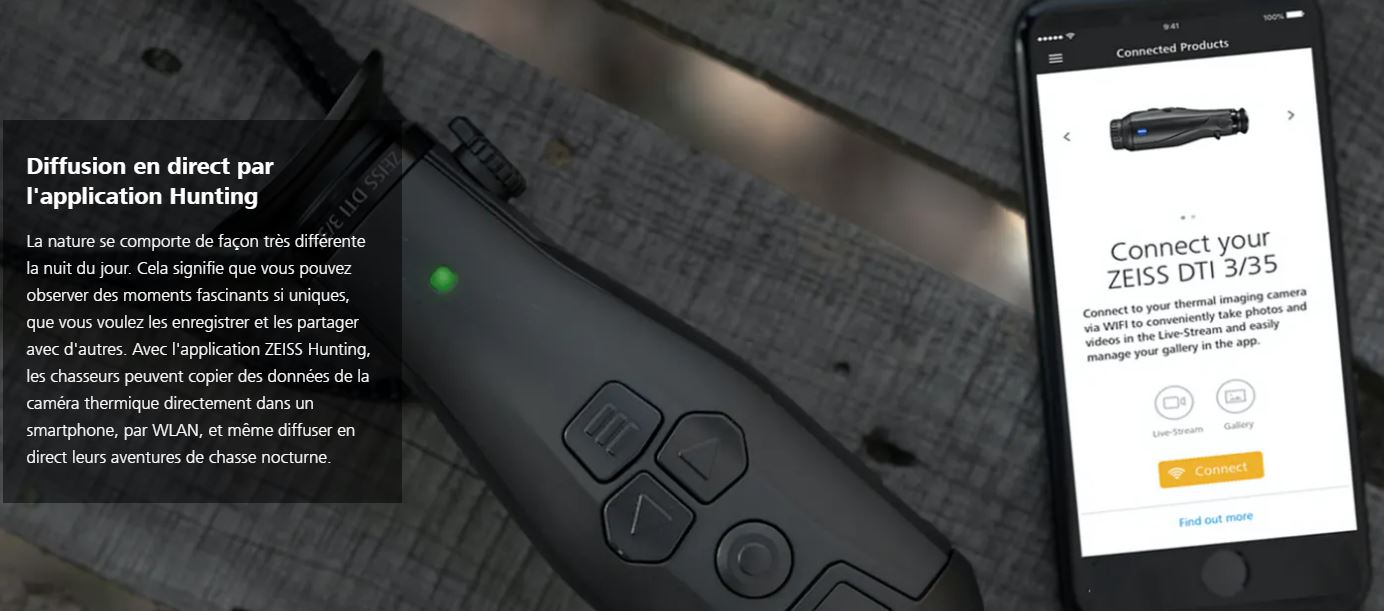 High precision zoom
It's often the details that make the difference: The fine, stepless zoom adjustment in 0.5x increments provides the perfect combination of magnification and detail recognition. Hunters can quickly recognize even the smallest details of the animals they observe, which is the key to accurately identifying them in the dark.
The most exciting hunting moments often occur after sunset - when the shadows of night provide natural camouflage for game. It's time to make those moments visible.
With the ZEISS DTI 3/25, ZEISS is releasing a thermal imaging camera specifically designed for hunting. Its excellent optics give detailed images even in the dark, allowing hunters to accurately identify their target for maximum hunting success. The ZEISS DTI 3/25 provides unique hunting experiences and unforgettable moments, even in difficult light conditions. Its ergonomic design and smart control button layout make the unit exceptionally easy to use and its operation extremely intuitive. The high-resolution HD LCOS display combined with 0.5x zoom steps provides detailed images for accurate identification. The device therefore opens up a completely new world of hunting!
Features:
Optics
Focal: 25 mm / F1.0
Lens type: Germanium
Range: approx.

880 m (960 yd

)
Field of view at 100 m Horizontal: 26 m
Lateral field of view of the lens in ° (horizontal × vertical) "15° × 11
Optical magnification: 1.8 x
Maximum digital zoom: 4 x
Zoom increase: 0.5x by pressing 1.0× - 4.0×
Sensor
Resolution: 384 × 288 px
"Sensor pixel pitch: 17 μm
Image frequency: 50 Hz
Display
Display resolution: 1280 × 960 px
Display type: LCOS
Electronics
Interfaces: USB-C charger + WiFi data transfer
Batteries: Lithium-ion
Battery life: 10 hours
Memory : 15 GB
Video/image/live-streaming : Yes
WiFi frequency : 2,4 GHz
WiFi standard : IEEE 802.11b/g/n
Connection with other devices ZEISS Hunting App or USB-C
General
High precision zoom
It's often the details that make the difference: The fine, stepless zoom adjustment in 0.5x increments offers the perfect combination of magnification and detail recognition. You can quickly recognize even the smallest details of your surroundings.